DermSurgery Associates
7515 South Main Street, Suite 240
Houston, TX 77030
Phone: (713) 791-9966
Monday–Friday: 8 a.m.–5 p.m.
Friday: 8 a.m.–4 p.m.

Melasma Treatment
Pregnancy and other hormonal changes can affect many areas of the body, including the appearance of the skin. Melasma, sometimes called "the mask of pregnancy," is a common, often hormone-related skin condition that can be corrected by our board-certified dermatologists here in the Greater Houston, TX, area.
Topical Treatment for Melasma

Before & After Photos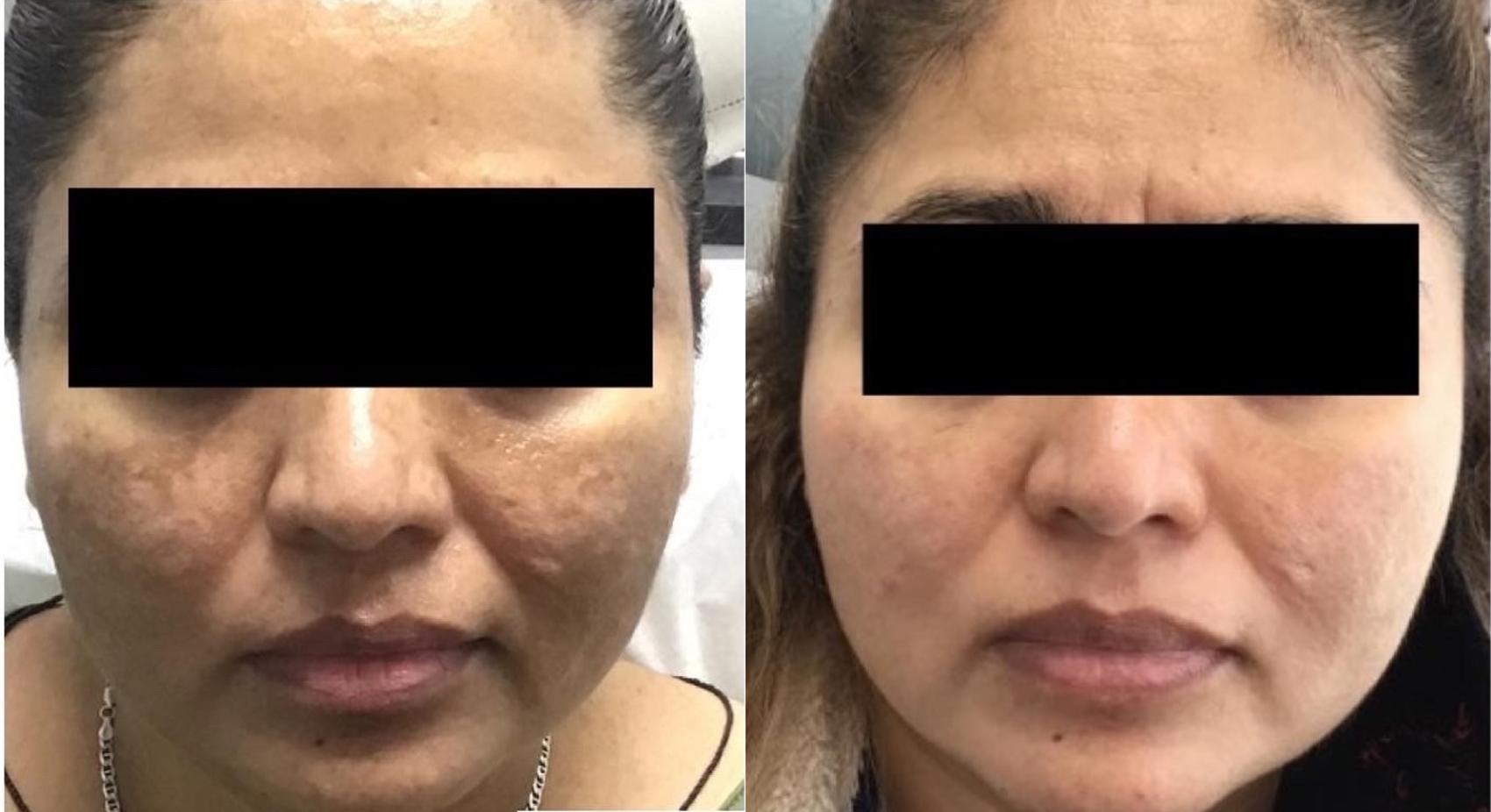 Before & After
Case #43
This woman came to Dr. Zhang at our Beechnut Suite 290B location in Houston for treatment of melasma on her face. She had discoloration on her cheeks. Dr. Zhang prescribed a topical treatment to fade the appearance of the melasma. After 6 weeks, the improvement in her skin tone is dramatic.
Read More
Keep in mind that each patient is unique and your results may vary.
What Is Melasma?
Melasma is a hyperpigmentation skin condition on the face near the cheeks, nose, forehead, and upper lip. It appears as dark brown or blue-gray patches of freckle-like marks or spots. Melasma is more common among women as high levels of estrogen can trigger it.
What Causes Melasma?
Melasma is typically caused by dramatic hormone changes, such as those seen in pregnant women or those who take birth control pills. However, it can appear on those who are not pregnant.
While less common, melasma can also be caused by sun exposure. People of all ethnic groups can develop the condition. Using a strong SPF sunscreen along with sun-protective clothing can reduce the likelihood of developing sun-induced melasma.
What Are the Treatments for Melasma?
Treatments for melasma depend on the size and severity of the area being treated. Our dermatologists most commonly prescribe topical medications such as hydroquinone, tretinoin, retinoids, and alpha-hydroxy acids (AHAs).
In more severe cares, we offer in-office treatments such as Fraxel® laser skin resurfacing. Chemical peels are another popular option for refreshing and rejuvenating the skin.
Our experienced dermatologists have helped countless Greater Houston, TX, patients clear away discoloration caused by melasma. If you would like to learn more about melasma treatment, please request a consultation with one of our specialists at a location near you.
Melasma Treatment Locations Near You
High-quality skin care is never far away. Call a convenient location near you to request an appointment.