DermSurgery Associates
7515 South Main Street, Suite 240
Houston, TX 77030
Phone: (713) 791-9966
Monday–Friday: 8 a.m.–5 p.m.
Friday: 8 a.m.–4 p.m.

Thermage®
Multi Use Radio Frequency Treatment
The Thermage® system has developed procedures that are designed especially to help smooth and tighten wrinkled, creepy and saggy skin on tummies, legs, arms and hands. Contouring, Body Shaping & improvement of Cellulite are among the great benefits of this treatment. Some popular areas of treatment include:
Skin laxity
Laugh lines
Forehead lines
Marionette lines
Neck
Buttocks
Extremities
Abdomen
Eyelids
Hands
Thermage® treatment uses radio frequency to safely heat the deep layers of skin in order to increase the production of collagen and stimulate new collagen growth. This in turn promotes younger looking, tighter & firmer skin.
Treatments typically take from 1 ½ to 2 hours, depending the area you are having treated. There is no down time following treatment and treatment is completed in one session in the comfort of our offices.
Thermage

Before & After Photos

Before & After
Case #25
Thermage skin tightening for face and body. Photos courtesy of Solta Medical Aesthetic Center.
Keep in mind that each patient is unique and your results may vary.
What is the Thermage procedure?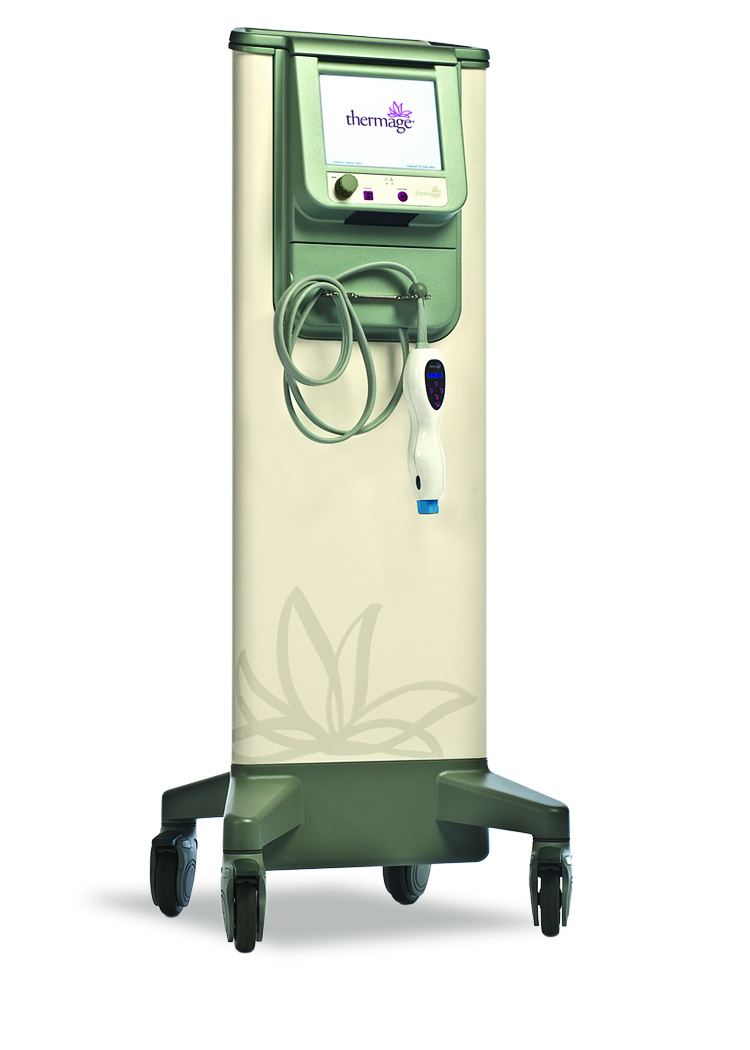 Thermage is a safe, non-invasive, radiofrequency (RF) cosmetic procedure that's clinically proven to help smooth and improve skin for an overall younger looking appearance. The treatment delivers natural looking results with little to no downtime—on all skin types on and off the face, all in a single procedure.
What does Thermage treat?
Thermage procedures can effectively and safely treat fine lines and wrinkles on most body parts, including the face, neck, eyes, tummy, arms, hands, thighs and buttocks. Thermage can also smooth uneven, dimpled skin on the body and temporarily reduce the appearance of cellulite.
How many treatments will I need?
Unlike many other procedures, Thermage treatment delivers results in a single treatment for most patients. In fact, when it comes to wrinkle treatments with little to no downtime, Thermage is one of the only non-invasive procedures on the market.
How long is the treatment?
Thermage treatments average about 45 minutes for the face and up to 90 minutes for other parts of the body, depending on the size, location and condition of the area to be treated. Since Thermage is a short procedure and a single treatment, it fits into your busy lifestyle.
Is there any special preparation or follow-up?
No. Unlike surgery, there is no pre-procedure preparation such as blood work or fasting. And there is no special care required after treatment, aside from basic skin maintenance and sunscreens as part of a regular skincare regimen. Since the Thermage procedure has little to no downtime, most patients return to their regular activities immediately following treatment. Some patients exhibit a temporary redness or minor swelling after treatment, but this usually goes away within 24 hours.
How does Thermage treatment work?
Thermage uses radiofrequency technology to heat the deep, collagen rich layers of your skin. The heat helps remodel existing collagen and produce new collagen, which improves the smoothness and texture of the skin's surface.
How is Thermage technology different from other procedures that treat wrinkles?
Unlike some other procedures, Thermage involves no surgery, no injections and little to no downtime, and Thermage works on all skin types on and off the face. While laser treatments and other radiofrequency procedures also smooth the surface of the skin, no other treatment heats as deeply as Thermage. By heating the innermost layers of skin, Thermage is the most effective at renewing collagen , which results in smooth, sleek skin and an overall younger looking appearance.
How do Thermage results compare with those of other treatments?
Some people want the dramatic results of surgery. Others want the more subtle, gradual results of a non-invasive treatment with no downtime. This is where Thermage succeeds, delivering improved skin appearance, and overall texture. When lotions and potions are not enough and surgery is too much, Thermage is a safe, effective solution.
When do the results appear, and how long do they last?
Visible results may be immediate, and they may appear over time in the course of your body's natural collagen rebuilding process. For most patients, measurable results appear gradually in the two to six months following a single treatment session. Results can last years depending on your skin condition and aging process.
What does the Thermage procedure feel like?
Each time the treatment device touches your skin, you'll feel a brief cooling sensation, followed by a deep but brief heating sensation, followed by another cooling sensation. The heating sensation is a sign that the deep layers of your skin are reaching effective temperatures for collagen remodeling. Throughout the procedure, you will be asked for feedback on the level of heat sensation to help balance your comfort with maximum results.
What indications does Thermage have?
Thermage is indicated for the non-invasive treatment of wrinkles and temporary improvement in the appearance of cellulite. In addition, Thermage is the first and only system to receive FDA clearance for non-invasive, energy-based eyelid treatments.
If you would like to learn more about Thermage, please call one of our specialists at a location near you.
Thermage® Locations Near You
High-quality skin care is never far away. Call a convenient location near you to request an appointment.