DermSurgery Associates
7515 South Main Street, Suite 240
Houston, TX 77030
Phone: (713) 791-9966
Monday–Friday: 8 a.m.–5 p.m.
Friday: 8 a.m.–4 p.m.

SkinPen® Microneedling

As nonsurgical procedures grow more popular than ever, SkinPen microneedling is an important tool in cosmetic dermatology. Men and women from Houston and beyond enjoy using this innovative treatment to refresh and rejuvenate their skin's texture.
SkinPen stimulates the skin's natural ability to repair itself, creating new collagen and elastin for healthier, younger-looking skin. A treatment that easily fits into the busiest of schedules.
What Is Microneedling?
Microneedling is a procedure that uses small ultra-fine needles to prick the skin carefully. These micro-injuries to the skin spur the generation of more collagen, causing the skin to become smoother and firmer over time. SkinPen accelerates this repair process by creating microscopic channels, allowing nourishing serums to penetrate deeper into the skin. New collagen and elastin production can reverse years of sun damage, improve acne scars, and enhance the overall appearance of aging skin.
Before & After SkinPen Microneedling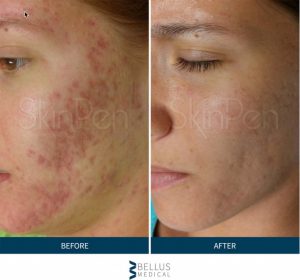 What Does Microneedling Treat?
Microneedling is mainly used on the face and treats a range of skin concerns. Some of the primary benefits of microneedling include:
Reduces fine lines and wrinkles
Shrinks enlarged pores
Stimulates collagen production for smoother skin
Minimizes age spots and other discoloration caused by sun exposure
Reduces the appearance of acne scars and stretch marks
Improves rosacea
While some retailers offer "DIY" microneedling alternatives, they deliver inferior results, at best. For the safest results, it's important to have your procedure performed by a board-certified dermatologist.
Who Is a Good Candidate for Microneedling?
Microneedling is a suitable procedure for those in overall good health who want to fade imperfections and improve skin texture. It works well for diminishing scars related to acne or aging, and you'll likely notice brighter, firmer skin after treatment.
Microneedling also often costs less than other treatments, making it a great starter option for those new to skin care or on a budget. It is also an excellent alternative to more aggressive anti-aging procedures such as chemical peels.
Combining Microneedling With Other Cosmetic Treatments
Combining other skin rejuvenation treatments with microneedling creates more comprehensive results in an efficient and effective way. For example, pairing microneedling with a gentle laser treatment such as Clear + Brilliant™ improves the skin's tone and texture, shrinks pores, and minimizes early signs of aging in a way that microneedling alone may not accomplish. You can also combine BOTOX® Cosmetic, dermal fillers, and other laser skin treatments with microneedling to enhance results.
We can discuss other combination approaches during your consultation.
What Happens During a Microneedling Treatment?
Microneedling begins with your provider numbing the target area with a topical anesthetic. They will then use a small pen-like tool to make small pricks to the skin, moving evenly across the face as they go. After the procedure is done, a soothing serum is applied to the skin to calm any irritation. A single treatment session usually takes 30 minutes to perform, depending on the size of the area being treated.
Is Microneedling Painful?
Even though it uses needles, microneedling isn't a very painful procedure. The topical anesthetic reduces most discomfort, and the pinpricks are so small that you likely won't notice them after the procedure.
How Long Is Recovery After a Microneedling Treatment?
Because it is a nonsurgical treatment, most microneedling patients don't need an extended recovery period. Most men and women can return to work or school 1 to 5 days after their session. Your skin may feel red, swollen, or slightly raw for a few days after the procedure. Some patients require 3 to 4 sessions for the best possible results.
Frequently Asked Questions
How long will my results last?
For patients who want to minimize the appearance of scars or stretch marks, the results will last a lifetime. If you're concerned about enlarged pores, fine lines, or other signs of aging, you can expect the results to last up to 6 months.
Is microneeding better than BOTOX?
Microneedling and BOTOX are both effective anti-aging treatments that target different types of fine lines and wrinkles. In fact, many patients combine microneedling, which stimulates new collagen, with BOTOX injections to reduce crow's feet, worry lines, and forehead wrinkles.
How many sessions will I need to see results?
The number of treatments needed depends on your specific concerns and goals. You may need between 1 and 6 SkinPen microneedling treatments. For example, if you're trying to shrink pores, a single treatment may be enough. Patients who want to minimize moderate wrinkles, however, will probably need at least 2 or 3 treatment sessions.
How often should you get microneedling?
We typically schedule treatments about 4 to 6 weeks apart because it will take that long to see the results of the previous procedure. The skin also needs the time to fully heal from the micro-injuries that microneedling creates.
Will microneedling help reduce the appearance of deep wrinkles?
If you have deeper wrinkles or scarring, microneedling can help but it will take more treatments. You can discuss a treatment plan with one of our specialists or consider alternative treatments, such as laser skin resurfacing, to address deep wrinkles.
If you want to brighten and tone your skin using your body's natural healing processes, a customized microneedling session may be right for you. Request a consultation at one of our Greater Houston dermatology practices or call (713) 791-9966 to learn more about your treatment options.
SkinPen® Microneedling Locations Near You
High-quality skin care is never far away. Call a convenient location near you to request an appointment.