DermSurgery Associates
7515 South Main Street, Suite 240
Houston, TX 77030
Phone: (713) 791-9966
Monday–Friday: 8 a.m.–5 p.m.
Friday: 8 a.m.–4 p.m.

Mohs Surgery for Skin Cancer
Mohs Surgery for Skin Cancer
Each year, more than 1.2 million Americans are diagnosed with skin cancer. While this condition is not usually life-threatening, it can become so if left untreated. To prevent this, DermSurgery Associates offers the most advanced and effective treatment available for common skin cancers: Mohs micrographic surgery. Our Greater Houston, TX, dermatology team performs this groundbreaking procedure to provide the greatest potential for cure while minimizing the resulting cosmetic effects.
With an extremely high cure rate of up to 99%, Mohs surgery is the preferred method for removal of skin cancer. The technique was first developed in the 1930s and has evolved into a precise technique performed by fellowship-trained Mohs surgeons to identify and remove diseased tissue while leaving healthy tissue intact.
What Is Mohs Surgery?
Mohs surgery is a highly innovative and successful skin cancer treatment that involves removing the cancerous tumor along with a very thin layer of skin tissue, which is immediately frozen and microscopically examined for cancer cells. If cancer cells are found, an additional thin layer of tissue from that very specific area of concern is removed and microscopically examined for cancer cells. If evidence of disease exists, the process continues, as layer by layer the cancer is traced out until it is completely gone.
With Mohs surgery, only affected skin is removed, preserving as much of the surrounding healthy tissue as possible, thus minimizing the cosmetic impact. Mohs surgery is performed under local anesthetic as an outpatient procedure.
Mohs surgery is very effective for skin cancers that are:
Located in cosmetically sensitive areas
In functional areas, such as the skin around the ears, nose, lips, and scalp
Recurrent
Large and difficult to treat
Why Choose DermSurgery Associates for Mohs Surgery?
Our fellowship-trained Mohs surgeons offer advanced expertise in Mohs surgery. A world-renowned Mohs surgeon for more than 2 decades, Leonard H. Goldberg, M.D., DermSurgery's Medical Director, specializes in this procedure. In addition, he trains upcoming Mohs surgeons as the Program Director for the ACGME-accredited Procedural Dermatology Fellowship and Houston Methodist Hospital's Micrographic Surgery and Dermatologic Oncology Fellowship Program.
As Mohs surgeons, our physicians have extensive training in 3 specific areas:
Dermatologic surgery: Removing the cancerous tissue.
Pathology: Analyzing and interpreting microscopic slides.
Reconstructive surgery: Closing wounds and creating an attractive result.
Our surgeons do more than provide medical treatment for skin cancer; they provide warm, compassionate support and guidance throughout the process. You can trust that you're not only in the hands of highly experienced and trained dermatologists, but also of a team that cares deeply about your personal journey and dermatologic health.
What Are the Advantages of Mohs Surgery?
The American College of Mohs Surgery cites advantages including:
Exceptionally high cure rate
Reduced cost when compared to other treatments, which may require multiple procedures
Complete cancer removal during surgery,
Minimal amount of healthy tissue lost
Optimal functional and cosmetic outcome resulting from surgery
Same day wound repair/reconstruction in most cases
Your Mohs Experience: What to Expect
Our goal at DermSurgery is to ensure your total comfort and understanding of your surgical experience. Here is what you can expect when you visit us for skin cancer treatment.
Your Preoperative Visit
Prior to scheduling your surgery, you will visit with one of our board-certified dermatologists, who will answer any questions you have and will discuss the procedure in greater detail. He or she will examine your skin cancer, obtain your medical history, and make an assessment to determine the most beneficial and effective treatment of your skin cancer.
Preparing for Surgery
We recommend that you read all the information we provide to you regarding the procedure, ask any questions you may have, and follow the pre-op guidelines given to you during your first visit. Prior to surgery, it is important to be well-rested, to eat a good breakfast, and to plan to spend a few hours at our facility. We also suggest that someone accompany you to drive you home.
The Mohs Procedure
On the day of your surgery, your doctor will be assisted by a team of nurses, medical assistants, and technicians who will be directly involved in your care. You will be awake throughout the process and will be informed of how your procedure is progressing each step of the way.
Here is a step-by-step guide to what happens during a Mohs procedure.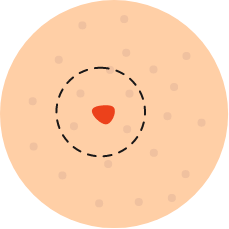 Step 1: Cleansing & Numbing
The procedure begins with your doctor examining your skin, cleansing the area, and marking it as needed. Your doctor then numbs the area with an injectable local anesthetic to keep you comfortable. You may be seated or reclined, depending on which area is being treated.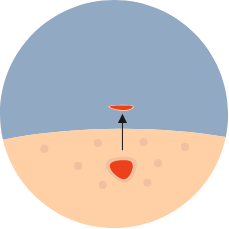 Step 2: Tissue Removal
Your surgeon uses a scalpel to remove a thin layer of cancerous tissue. Your wound is temporarily bandaged and you are allowed to relax for the next 45 minutes or so as your lab analysis takes place.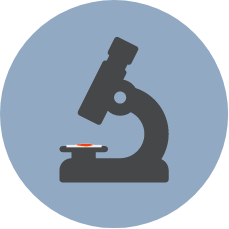 Step 3: Lab Analysis
After the tissue is removed, it is processed in our laboratory. This involves careful analysis of microscopic slides. Your surgeon closely examines the tissue, especially the edges and underside, to determine whether another layer of tissue needs to be removed.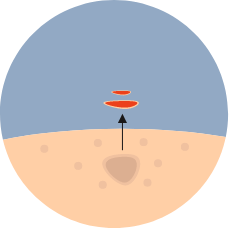 Step 4: Additional Tissue Removal
If the microscopic examination reveals signs of any additional tumor, your surgical team continues the process, removing only residual tumor and sparing the healthy skin. Most skin cancers are completely removed in 2 or 3 surgical stages.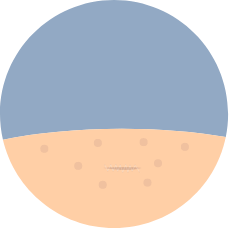 Step 5: Reconstruction
You and your physician will discuss reconstruction during your preoperative visit. However, the actual method is determined only after the skin cancer is completely removed and the doctor can make a final assessment. In most cases, your surgeon closes the wound, paying careful attention to the cosmetic result. You are sent home with detailed instructions on how to care for your wound over the next 1 to 2 weeks.
Postsurgical Care
In order to facilitate the healing process, it's very important to take good care of yourself following your procedure. DermSurgery Associates will provide you with detailed information on how to care for your wound in the weeks following surgery. You should plan on wearing a dressing for approximately 1 to 2 weeks, while avoiding any strenuous activities.
Healing
Your surgical scar will heal in 1 to 2 weeks. Immediately following surgery, you may experience minimal discomfort, which can be relieved with acetaminophen. Significant blood loss following this type of surgery is rare, but if you experience bleeding, please contact our office. The area may feel swollen or even lumpy, especially during the first few months.
Follow-Up Visits
We will make periodic follow-up appointments for you until your wound has healed. It's important to know that once you have developed a skin cancer lesion, you are more susceptible to developing additional lesions in the future. If you notice any suspicious areas, contact your doctor for an evaluation
Starting Your Journey
Our board-certified, fellowship-trained Mohs surgeons are eager to help you enjoy the freedom of having healthy skin. If you would like to learn more about Mohs surgery in Greater Houston, TX, please call one of our experienced surgeons at a location near you.
Mohs Surgery for Skin Cancer Locations Near You
High-quality skin care is never far away. Call a convenient location near you to request an appointment.