DermSurgery Associates
7515 South Main Street, Suite 240
Houston, TX 77030
Phone: (713) 791-9966
Monday–Friday: 8 a.m.–5 p.m.
Friday: 8 a.m.–4 p.m.

V-Beam Perfecta® Cynergy
Bothered by red spots on your skin? You can reduce port wine stains, cherry angiomas, rosacea, and other vascular lesions with the V-Beam Perfecta laser at our Greater Houston, TX, dermatology locations.
The V-Beam Perfecta is a safe and effective vascular laser treatment that involves minimal downtime and provides long-lasting results.
How does the V-Beam Perfecta laser work?
Pulsed dye lasers deliver an intense but gentle burst of light into selectively targeted areas of the skin. The light is absorbed by blood vessels or melanin in the dermis, depending on the condition being treated. Once absorbed, this light energy breaks up the pigmentation and allows the body to reabsorb it, leaving behind a more even complexion.
What conditions does the V-Beam Perfecta treat?
Factors such as the age, color, and type of lesions, as well as the location on the body all determine whether lesions can be removed. Commonly treated conditions include:
Enlarged blood vessels
Broken capillaries
Cherry angiomas
Port wine stains
Pigmented scars
Rosacea
Other vascular lesions
Do V-Beam Perfecta treatments hurt?
You will likely only feel mild discomfort during your treatment. Most people experience warmth, tingling, and a sensation similar to a rubber band snapping against the skin. While topical anesthesia is not typically necessary, we do have it on hand if needed.
What is V-Beam Perfecta recovery like?
There is little to no downtime involved after the treatment. In most cases, you can return to your usual routine right away. However, if you are treating a hemangioma or a congenital venous malformation, your downtime may be a bit longer. Your dermatologist will discuss recovery and aftercare with you in-depth during your consultation.
How many V-Beam Perfecta treatments will I need?
Most people need a series of 3 to 5 sessions spaced about a month apart to see their best results.
 Before & After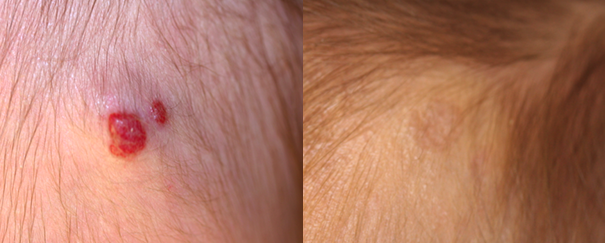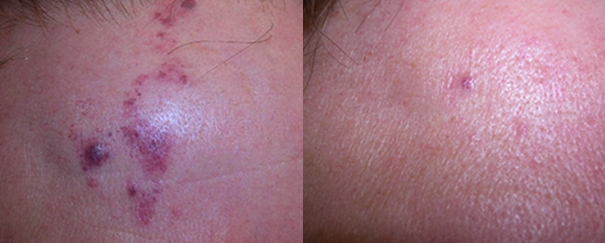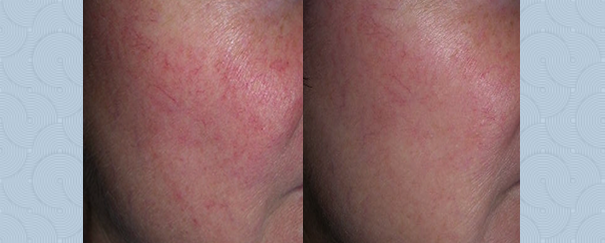 If you would like to learn more about Greater Houston V-Beam Perfecta laser treatments, please request a consultation or call one of our experienced specialists at a location near you.
V-Beam Perfecta® Cynergy Locations Near You
High-quality skin care is never far away. Call a convenient location near you to request an appointment.