Plenty of creams and serums on the market promise to revitalize your skin. However, topical treatments can only do so much when it comes to deeper skincare issues. Problems like dark spots, wrinkles, and sagging often require specialized procedures to be truly addressed. There's good news, though: Our dermatologists here in Houston have the exact tools you need.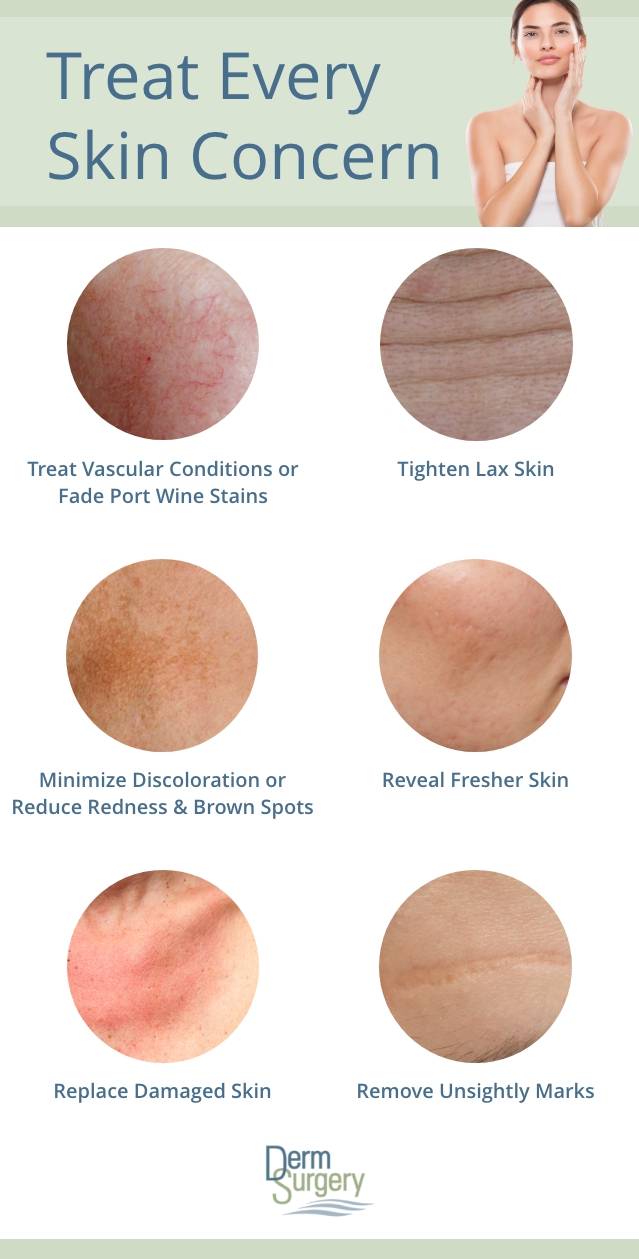 From laser skin resurfacing to radiofrequency energy, we have the right solution for your needs. Here are our go-to devices that can help treat nearly every skin concern you may have. 
Replace Damaged Skin: Clear + Brilliant™
Skin is sensitive and easily damaged by the sun, age, and environmental factors. If you want to gently give your damaged skin a bit of a boost, Clear + Brilliant is an excellent solution. This laser treatment has proven to fight the signs of aging and create smoother skin and a more radiant glow. In addition to improving skin texture, Clear + Brilliant is a comfortable, affordable treatment that is safe for all skin types. 
Minimize Discoloration: Cutera LimeLight
Veins and brown spots can gather across your face and neck, giving your complexion a blotchy, discolored appearance. Cutera LimeLight is an ideal treatment for any part of your face or neck with redness, brown spots, or telangiectasia (tiny veins). During your session, your practitioner can customize your LimeLight facial to target specific pigmented areas. The light treatment disperses color by heating the pigmented cells, leaving you with clear, even skin tone.
Treat Vascular Conditions: Excel® V
Vascular issues develop shortly after birth and are caused by broken veins beneath the skin. Excel V treats target veins by delivering pulses of light energy, prompting coagulation and controlled destruction of the blood vessel. As the veins are reabsorbed by your body, the discoloration fades and your complexion evens out. To make your treatment as comfortable as possible, Excel V also has continuous cooling to soothe your skin throughout the process.
Reveal Fresher Skin: Fraxel®
Damaged cells can collect on the surface of the skin, giving it a dull, tired look. If you want to kick-start your complexion and get back your natural glow, Fraxel can rejuvenate your face. By removing dead cells and stimulating collagen production, the device's ablative and non-ablative lasers promote the generation of new, healthy tissues. Fraxel can be used to fix a variety of issues such as wrinkles, scars, and age spots. 
Reduce Redness & Brown Spots: Intense Pulsed Light (IPL)
Redness, brown spots, and blotchy discoloration age your appearance and make you look older than you feel. If you want brighter, younger-looking skin, intense pulsed light treatments (IPL) have the power to even out your skin's coloration. IPL is a light-based treatment that breaks down melanin and damaged blood vessels so the cells can be reabsorbed by the body. In addition to creating clear, smooth skin, IPL also stimulates collagen production.
Remove Unsightly Marks: PicoSure®
Discoloration may not be the only thing you want to fade from your skin. In addition to sun spots and freckles, PicoSure removes unwanted tattoos and old, lingering scars. PicoSure uses picosecond laser technology to break up skin spots and tattoo ink. The body then eliminates these tiny fragments and flushes them from your system, revealing clear, blemish-free skin. PicoSure is much gentler than traditional heat-based laser treatments.
Tighten Lax Skin: Thermage®
If you struggle with sagging skin due to aging, you have options beyond surgery. Thermage is a trusted nonsurgical skin tightening treatment that takes years off your appearance. Thermage tightens droopy, wrinkled skin by triggering collagen production using the power of radiofrequency energy. It is clinically proven to smooth and improve skin texture with little to no downtime, and it can be used on the face, neck, midsection, and more.
Fade Port Wine Stains: Vbeam Perfecta®
Some birthmarks are easy to hide, but vascular birthmarks are difficult to camouflage. Vascular lesions, such as port wine stains, are bright red marks made by an abundant number of large vessels forming beneath the skin's surface. Vbeam Perfecta is a specialized laser that gently corrects lesions and other red, splotchy blemishes. It produces this clearer skin by breaking apart the unwanted veins without damaging any of the surrounding skin. Vbeam boasts a high success rate among our patients and is a very safe and trusted option for skin discoloration.
There's no one-size-fits-all solution when it comes to skincare, so we provide our patients with all the tools and treatments they may ever need. You don't have to go it alone. Our team of dermatologists can lead you toward the best solution for your unique skincare concerns. If you're looking for cosmetic dermatology advice in the Greater Houston area and would like to learn more, please request a consultation online or call (713) 791-9966.