DermSurgery Associates
7515 South Main Street, Suite 240
Houston, TX 77030
Phone: (713) 791-9966
Monday–Friday: 8 a.m.–5 p.m.
Friday: 8 a.m.–4 p.m.

Intense Pulsed Light (IPL)
Intense Pulsed Light (IPL)
Uneven pigmentation can come in many forms, from redness and flushing to dark spots and blotches. For a brighter, younger-looking, and more even complexion, our dermatologists often recommend treatments with intense pulsed light (IPL) at one of our Greater Houston, TX, locations. Also called a photofacial, this treatment uses powerful light energy to break down excess pigment in the skin and even out the skin's coloration.
Our dermatology professionals are highly trained in safely performing IPL treatments and creating satisfying, transformative results for the men and women who visit us. We are here to help you address any concerns you may have so you can feel as confident as possible in your skin.

Intense Pulsed Light (IPL)

Before & After Photos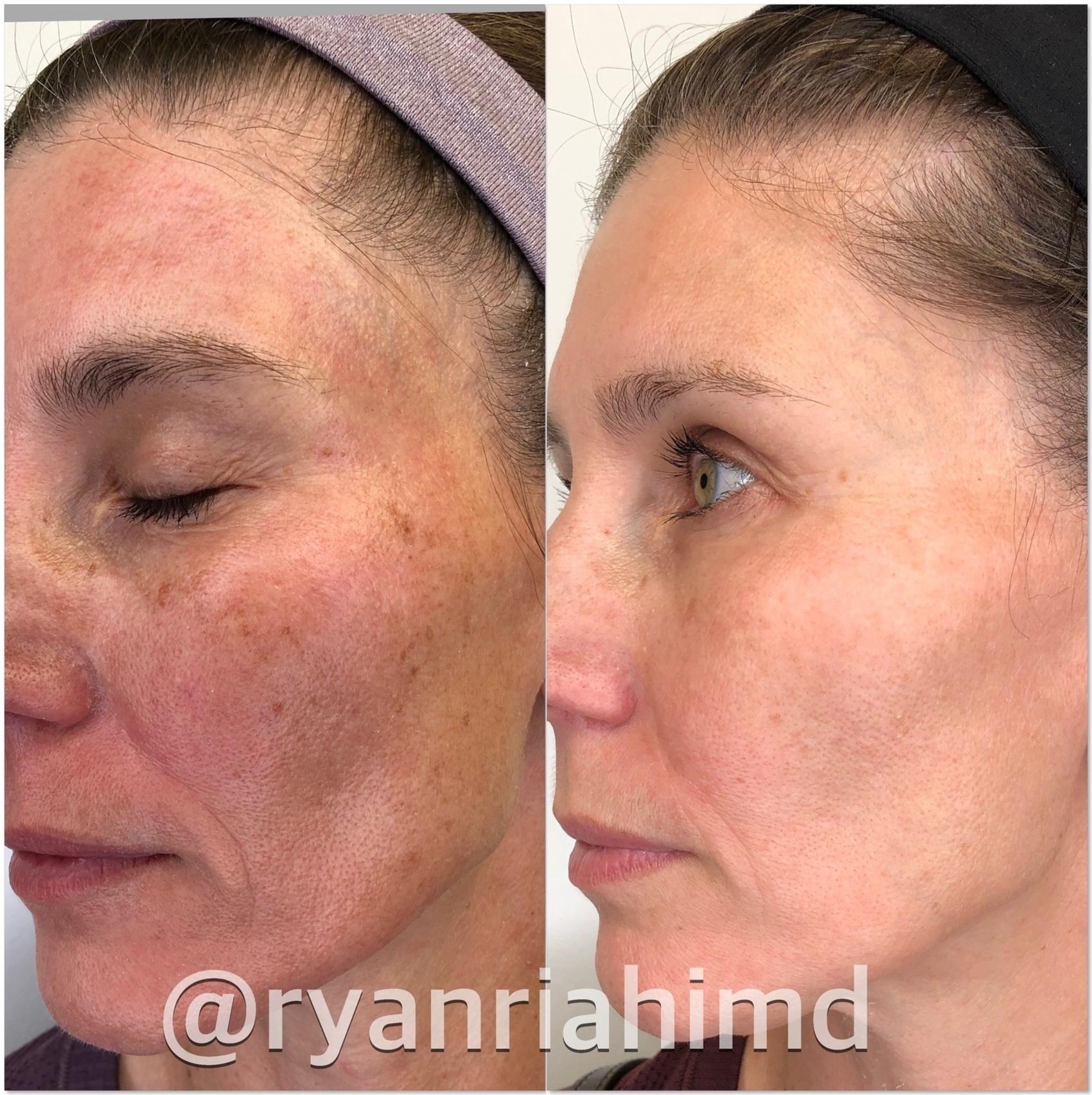 Before & After
Case #48
Dr. Riahi treated this patient's brown spots and redness on her face with IPL to even out her skin and give her a refreshed appearance.
Keep in mind that each patient is unique and your results may vary.
What Is IPL?
IPL is a light-based treatment that breaks down melanin and damaged blood vessels to address pigmentation-related concerns on almost any area of the body. Some of these concerns include:
In addition to evening out pigmentation, the light energy also stimulates the production of collagen, which helps the skin appear youthful, elastic, and refreshed.
If you have severe red or brown pigmentation concerns, you may benefit from other laser treatments, such as the V-Beam Perfecta® Cynergy or laser skin resurfacing.
How Does IPL Work?
The IPL device delivers powerful flashes of light to your skin, and the energy is absorbed by the excess melanin in the skin and the coagulated blood in broken blood vessels. Once they absorb the heat energy, these sources of excess pigmentation break down and are naturally removed from your skin. Brown pigment eventually flakes off as it deteriorates, and blood vessels dissolve and are absorbed back into your body.
What Are IPL Treatments Like?
IPL treatments typically take 30 minutes, depending on the size of the area being treated. After applying a cooling gel and giving you protective eyewear, your provider will glide the handpiece over your skin and administer several bright pulses of light. Some people have compared the sensation of each pulse to the snap of a rubber band.
What Is Recovery Like After IPL?
For a few hours after your appointment, your skin may be red and swollen, similar to the look and feel of sunburn. However, you should be able to return to work and other daily activities quickly. You will need to wear sunscreen and avoid excessive sun exposure until you are completely healed.
You may notice dark spots getting even darker over the next few days. These spots will eventually flake off, leaving behind clearer skin.
How Many IPL Treatments Will I Need?
Most people need 3 to 5 treatments to see the best results, but this may vary depending on the severity of your concerns and the size of the area being treated. You can maintain your results with follow-up treatments every 6 to 12 months.
To learn more about IPL or schedule an appointment, please call one of our specialists at a location near you.
Intense Pulsed Light (IPL) Locations Near You
High-quality skin care is never far away. Call a convenient location near you to request an appointment.