Our patients often ask us about the best ways to reduce forehead wrinkles. From laser skin resurfacing to BOTOX® to skin tightening surgery, our Houston dermatologists here at DermSurgery Associates list 5 of the best ways to create a smoother, younger-looking forehead.
1. OTC Topical Retinoids & Wrinkle Creams
To treat fine lines around the mouth and eyes and reduce forehead wrinkles, your first option may be to try some of the many over-the-counter topical retinoids and wrinkle creams available on the market. Retinols, derived from Vitamin A, and other antioxidants and peptides may help minimize mild wrinkles and slow the progress of developing new ones.
2. Prescription-Strength Topical Creams
Alternatively, your DermSurgery Associates team might recommend a prescription-strength topical cream that contains a stronger concentration of the active ingredient than the over-the-counter version. These are great options for those in their 20s who want to ward off forehead wrinkles or address just the beginning signs of forehead lines. You can learn more about treating forehead lines at every stage of life in our related blog post.
3. Skin Resurfacing Procedures
The skincare experts at DermSurgery Associates in Houston specialize in advanced cosmetic skin resurfacing procedures. Some of the treatments we trust to effectively treat fine lines, minimize crow's feet and reduce forehead wrinkles include: laser and light therapy, chemical peels, and dermabrasion.
Fraxel® is a non-invasive laser light resurfacing treatment that penetrates deep into the skin to activate the production of collagen. It resurfaces your skin by stimulating the growth of new, healthy skin. Surrounding tissues remain intact, which supports quick healing.
Chemical Peels can effectively reduce fine lines, wrinkles, and even dark spots. They vary in strength, depending on your needs, and treatment can be completed in less than 30 minutes.
4. BOTOX & Dermal Fillers
BOTOX and fillers like JUVÉDERM® and Restylane® are popular treatments for moderate lines around the lips, forehead, and eyes.
BOTOX is injected with a small needle directly into the skin. It works by blocking impulses from the nerve to the tiny facial muscles related to expression lines. As a result, it relaxes the muscles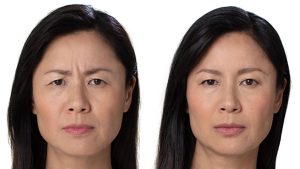 and allows the overlying skin to remain smooth and unwrinkled. It is often the first go-to for men and women looking to smooth out horizontal forehead lines and the vertical frown lines between the eyebrows (often called the 11s). You can see how BOTOX affects the 11s in the before and after pictures here (the photo on the left is before BOTOX and the photo on the right is after BOTOX). You can see more BOTOX before and after photos in our photo gallery.
JUVÉDERM is the 'next generation' of hyaluronic acid dermal fillers. It offers a smooth, long-lasting treatment for facial wrinkles and folds.
Restylane is a filler derived from a non-animal stabilized hyaluronic acid. It restores fullness to the skin to correct facial wrinkles and folds and can last up to six months.
5. Surgical Procedures
Our highly-trained cosmetic surgeons have many options when it comes to treating tired, wrinkled skin, including everything from skin tightening to a full facelift. The recovery time for these surgical options is longer than with nonsurgical treatments, but the results last longer. In some cases, complementing surgical results with a nonsurgical treatment can enhance your overall rejuvenation.
If you want to reduce forehead wrinkles, crow's feet, and fine lines, set up an appointment today with your DermSurgery Associates dermatologist in the Houston area to explore your options. User our online form to request a consultation or call (713) 791-9966 to schedule an appointment.