Experiencing acne as an adult can be frustrating and confusing—especially when it's not confined to your face! Men and women can have blackheads, whiteheads, and cystic acne on their chest, buttocks, or back—also called "bacne." Many people are especially embarrassed by these breakouts when they wear swimsuits, backless dresses, or any outfits that show some skin.
Just like facial acne, body acne needs to be properly cared for and treated. In this post, we'll discuss body acne and treatment options for improving the condition, so you can feel confident in your skin no matter what you wear.
Why Do You Get Acne on Your Body?
The pores on our chest or back can get congested the same way your facial pores do. Dead skin cells, natural oil (sebum), and other substances cause blockages in your hair follicles. These blocked hair follicles create inflammation on the skin, which is referred to as a pimple or acne.
Contrary to popular belief, aggressively cleansing your face and body will not impact the overproduction of sebum. Sebum production is linked to hormones, age, genetics, and other factors beyond your control.
What Areas of Your Body Can You Get Acne?
Unfortunately, you can get acne on any part of your body that has pores, but it's most common in areas where sebaceous glands are abundant. These areas include the following:
Chest
Back
Thighs
Buttocks
Arms
Shoulders
Treatment Options for Body Acne
Lifestyle Changes
As noted above, you can't scrub away your acne or improve it by obsessively cleaning your skin. However, you can manage the accumulation of sebum and oil in your pores by regularly washing your face and body with a gentle cleanser. Make sure to wash your sheets and pillowcases weekly to avoid dead skin and bacteria collecting on the surface.
If you tend to sweat excessively due to living in a hot climate or being very active, shower right after you work up a heavy sweat. While sweat can't cause acne, it irritates your pores and causes more congestion. This previous blog post discusses some additional lifestyle changes you can make to improve acne.
Over-the-Counter Products
Finding the right over-the-counter product for acne can be overwhelming, with the endless choices of creams, lotions, and patches available. You don't need to get bogged down by ingredient lists and marketing jargon. Just opt for products that contain salicylic acid or benzoyl peroxide, which are commonly used to treat acne.
Salicylic acid works as an exfoliant on your skin and keeps pores free of oil and bacteria. Benzoyl peroxide kills bacteria that clog your pores and cause inflammation. It's easy to find over-the-counter products that contain these ingredients at your local drugstore.
Prescription Medication
If you need a stronger treatment to reduce body acne, your dermatologist can help. Several prescription acne medications are available, including tretinoin, clindamycin, and doxycycline. These are topical medications that help with cell turnover and fight bacteria that cause acne on your face and body.
If other options aren't working for you or you have moderate to severe acne, your dermatologist may prescribe isotretinoin, an oral medication. You may be more familiar with isotretinoin by its former brand name, Accutane. Isotretinoin shrinks your sebaceous or oil-producing glands, so fewer clogged pores result in acne. Isotretinoin also helps regulate oil production in your skin. It's important to talk to your dermatologist to see if you are a good candidate for this therapy, as it has significant potential side effects.
AviClear™ Laser Treatment
FDA-cleared AviClear laser treatment is an excellent option for mild, moderate, and severe acne on your face and body. It's an exciting new treatment that can give you results similar to isotretinoin but with no adverse side effects. This laser treatment targets overactive sebaceous glands to regulate oil production, balancing sebum production and reducing acne breakouts.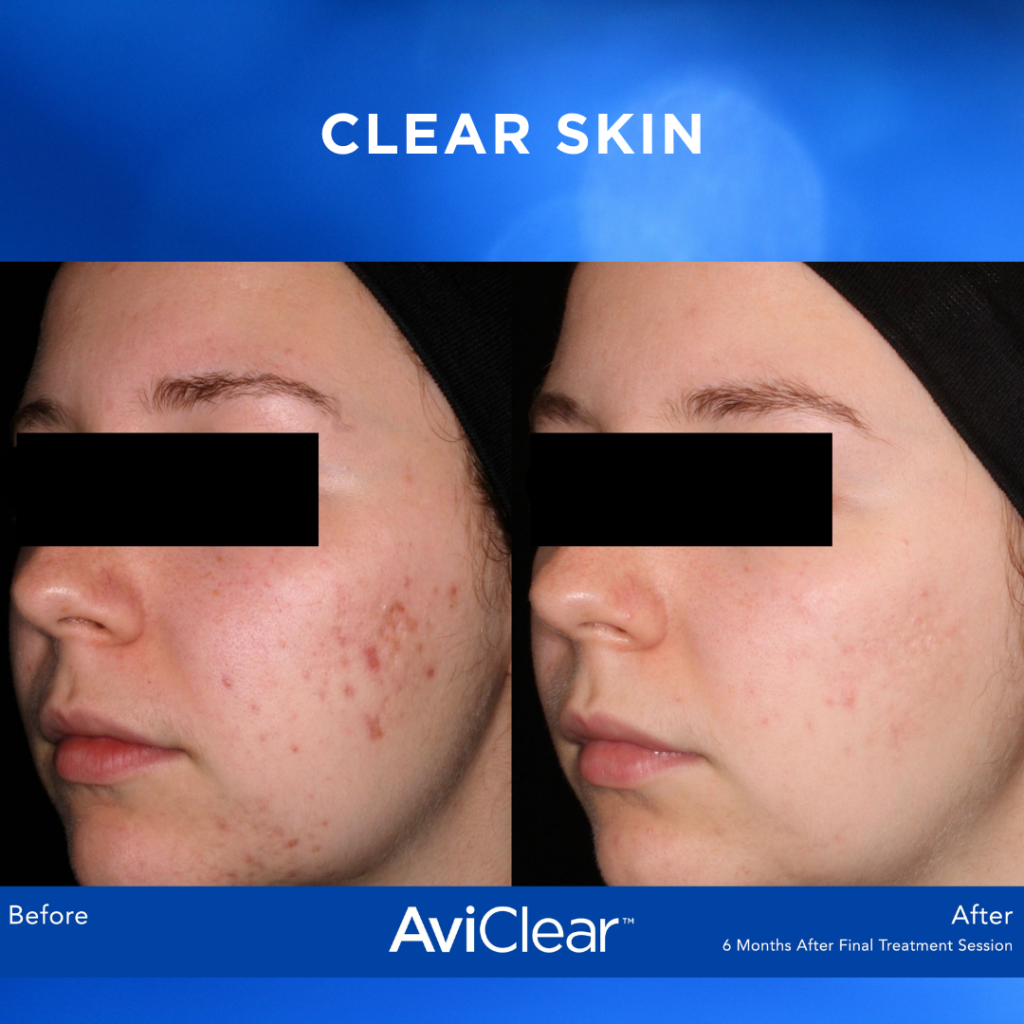 Am I a Good Candidate for AviClear?
AviClear can work on virtually any skin type to improve all kinds of acne. If you are looking for a gentle acne treatment that doesn't damage your skin and requires no downtime, you are a good candidate for AviClear. Most individuals can resume their normal routine immediately after their treatment.
You won't necessarily need to discontinue your current acne regimen before starting AviClear treatment, but be sure to discuss your current acne medications with your dermatologist.
How Long Will My Results Last?
You will see an improvement in your body acne for up to 1 year or longer after your treatment. For the best results, schedule three 30-minute treatment sessions, each spaced about 4 weeks apart. Your skin will improve after each session. In some cases, patients may not see progress until after their third AviClear treatment session.
Experiencing acne on your body can be frustrating, but DermSurgery is dedicated to developing the most effective treatment plan for you. To get the help you need to improve your acne-prone skin, request a consultation or call us at (713) 791-9966 to schedule an appointment.