Dermal fillers are all the rage among patients who prefer a nonsurgical approach to looking more youthful and refreshed. But with so many injectables to choose from, why do you keep hearing about the JUVÉDERM family of dermal fillers?
There's a reason JUVÉDERM is one of our most requested fillers—and we're about to address its many benefits. Keep reading to learn more about this go-to filler, including:
How the JUVÉDERM collection addresses specific areas of volume loss in the face
What to expect during your JUVÉDERM treatment
Which JUVÉDERM treatment is right for you
How long the results of your JUVÉDERM treatment will last… and more!
What is JUVÉDERM used for?
Let's start with the basics. What is JUVÉDERM, and how does it work? JUVÉDERM uses hyaluronic acid, a substance that occurs naturally in your body, to restore skin volume, which helps enhance facial structure and appearance. The JUVÉDERM collection of injectable fillers features different formulas that address specific areas of concern, including:
Fine lines
Wrinkles and folds, including nasolabial folds
Under eyes
Cheeks
Chin
Lips
Jawline
Scars
Which JUVÉDERM treatment is right for me?
As part of the JUVÉDERM family of fillers, we offer JUVÉDERM and JUVÉDERM VOLUMA® treatments to help you achieve plumper, smoother skin. JUVÉDERM is primarily used in the upper areas of the face, creating softer contours and targeting deep facial wrinkles, lines, and folds. JUVÉDERM VOLUMA is especially effective in adding volume to flattened, sagging, or hollow cheeks. It also addresses stubborn lines around the midface, including wrinkles surrounding the nose and mouth.
Your JUVÉDERM procedure: What to expect
Each patient's procedure will vary slightly depending on your skin condition, facial anatomy, and unique needs. During your initial consultation, we will assess your skin, discuss your goals, and determine the best approach. This includes determining if JUVÉDERM is the best filler for you. Our experienced injectors may recommend one of our many other filler options, which include Restylane products, RHA fillers, Belotero, and Sculptra.
As the procedure is underway, we cleanse the area and carefully inject the chosen filler into the treatment area. We then gently massage the treated area to evenly distribute the filler. While you may experience some minor bruising or swelling following treatment, there is virtually no downtime, and results are typically visible right away.
Although JUVÉDERM contains a local anesthetic, we take the added precaution of numbing the targeted area to ensure your comfort throughout the procedure. Keep in mind that certain areas, such as the lips, may be more sensitive to injections. You can expect your appointment to take roughly 30 minutes, and then you can immediately resume your normal activities as you enjoy the results of your procedure.
How long does JUVÉDERM last?
Part of JUVÉDERM's appeal can be attributed to the fact that it is a long-lasting dermal filler. While it ultimately comes down to how quickly your body metabolizes the injection, patients who take good care of their skin can generally maintain their JUVÉDERM results for up to a year. Patients receiving JUVÉDERM VOLUMA may achieve results for up to 1 year for the chin and 2 years for the cheeks. After this point, we recommend periodic maintenance treatments to keep your skin looking youthful and refreshed. You can click through these before-and-after photos to view real JUVÉDERM patient results.
What sets JUVÉDERM apart?
There's no denying that dermal fillers, in general, offer a great nonsurgical alternative if you want to turn back the clock on aging or enhance facial contours. However, not all fillers work the same, which is why our injectors advise you as to which is best for your goals. Here are a few of the benefits that set JUVÉDERM apart from other fillers:
Smoother consistency: JUVÉDERM's unique gel-like texture contains the highest concentrations of hyaluronic acid possible. This gives it a distinctly smooth consistency, making it better suited to target and plump fine lines and thin skin surfaces.
Proven safety: JUVÉDERM is FDA-approved, safe for all skin types, and its naturally occurring ingredients ensure minimal risk of allergic reaction.
Enhanced comfort: JUVÉDERM is infused with lidocaine to help minimize pain as the filler is injected under the skin.
Longer lasting: JUVÉDERM lasts longer than other fillers due to its higher levels of hyaluronic acid.
Can I combine JUVÉDERM with other treatments?
We often recommend pairing JUVÉDERM with BOTOX® Cosmetic or complementary dermal fillers like Restylane® to help you address and target a wide variety of concerns. Remember, the injectables we choose depend on your specific needs and cosmetic goals. JUVÉDERM and other dermal fillers can better address facial areas that need plumping, while BOTOX combats facial lines caused by repeated movements like furrowing and squinting. This infographic helps illustrate how we can utilize our entire arsenal of injectables to revitalize the face and other parts of the body.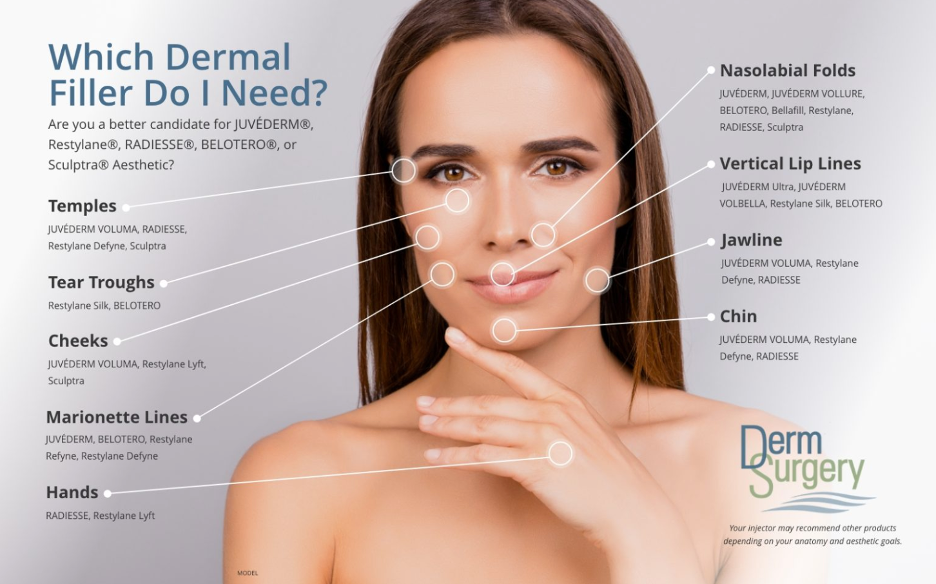 If you're ready to experience the benefits of JUVÉDERM, or any of our other fillers firsthand, we invite you to request a consultation online or call us at (713) 791-9966 to schedule an appointment.