Hey Houston, have you looked in the mirror and wondered why the luster in your face seems to have passed away over the years? Well, don't keep looking in the mirror – instead, take some pro-active steps by learning about three outstanding facial rejuvenation treatments offered by a few select Houston dermatology specialists.
Our "Facial Rejuvenation Triple Threat" consists of laser treatments designed to target a number of skin issues and help to reverse the signs of aging skin and its progression. The triple threat consists of Fraxel DUAL, PicoSure and Clear + Brilliant, all offered at DermSurgery Associates of Houston.
Facial rejuvenation: Fraxel DUAL
One of the more popular facial skin rejuvenation treatments is called Fraxel DUAL, which uses laser technology for non-ablative skin resurfacing. Fraxel is a good choice for people who want to enjoy more youthful-looking skin with a procedure that causes little disruption to their routines and schedules.
Fraxel DUAL is an excellent facial rejuvenation and skin resurfacing treatment for:
Age spots and sun spots
Stretch marks
Surgical scars
Acne scars
Melasma
Periorbital wrinkles
Various pigmentation issues
Take years off the life of your skin with this highly effective, non-invasive treatment. Look into Fraxel DUAL today and contact DermSurgery.
Facial rejuvenation: PicoSure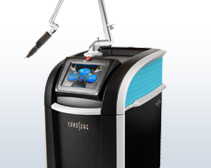 Our second triple-threat therapy is PicoSure, a laser treatment aimed at a wide range of skin blemishes including tattoo removal. Like other advanced facial rejuvenation procedures, PicoSure employs the power of a laser to unearth the beauty you had hiding there all along.
Non-surgical PicoSure is a treatment of choice for:
Sun spots and other sun damage
Acne scars
Freckles
Discoloration
Wrinkles
Tattoo Removal
PicoSure produces satisfying results on the face as well as many other areas of the body. Find out if it's the right treatment for you.
Facial rejuvenation: Clear + Brilliant
Finally DermSurgery Associates offers a laser skin-enhancement procedure designed to combat the effects of aging and give you skin that's noticeably smoother and younger looking. Clear + Brilliant is the name of the treatment, and it's also the name for how your skin can look when you choose this method of skin rejuvenation.
Clear + Brilliant helps you restore and maintain great skin. Look at some of the benefits of this safe and effective therapy:
Glowing and radiant skin tone
Remarkably smooth and soft skin texture
Ward off the harmful effects of the sun and the environment
Visible results in just four to six treatments, in most cases
Perfect for all types of skin
Safe, non-invasive treatment with very little downtime
Discuss Clear + Brilliant with a DermSurgery Associates dermatologist to determine if it's the right therapy for your specific skin issues.
For more information about how these treatments work and what great results to expect, contact DermSurgery Associates at 713.791.9966.
# # # # #
DermSurgery Associates is a Greater Houston area dermatology practice offering cosmetic, surgical and non-invasive dermatology treatments and procedures with industry-leading physicians trained and experienced with the most current dermatology technologies and procedures. For more information, contact:
DermSurgery Associates
7515 Main, Suite 240
Houston, TX 77030
ph. 713.791.9966