What You Need to Know About Tattoo Removal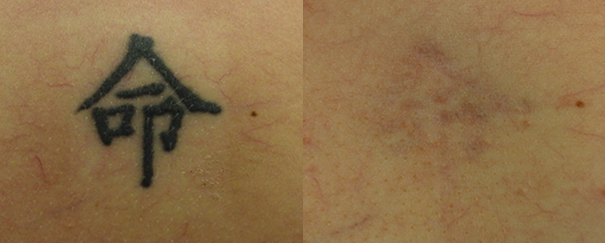 Sometimes people getting tattoos are told by a well-meaning friend or family member not to do it, that someday they'll regret it. If "someday" does happen to come, fortunately there's a solution with DermSurgery Associates of Houston: laser tattoo removal.
A variety of reasons cause people to seek the removal of tattoos. The tattoo may be a painful reminder of a former relationship, or it might have been put on a body part that the person no longer wants marred with ink, such as the arms, neck or face when such a tattoo could make it difficult to get certain types of jobs.
If you have a tattoo – regardless of its size – that you would like removed, you can count on the trained dermatologists at DermSurgery to perform the procedure safely, using what's called a Q-switched laser device.
This treatment is fantastic for tattoo removal, but it doesn't stop there.  The same method we use to remove tattoos is also regularly used to treat various pigmented skin lesions such as brown spots, age spots, freckles, sun spots and more.
Tattoo removal at our Houston dermatology clinic
A lot of people wonder how long it will take to have a tattoo removed. Several factors influence this including what color or colors are contained in the tattoo and how deep the pigment of the tattoo is. After we have a chance to examine your tattoo, we can tell you generally how long the procedure will take and how many subsequent treatments may be required to remove the tattoo in a way that satisfies you.
Tattoo removal is fairly straightforward. Using specialized laser technology, we perform select destruction of the ink molecules that form the tattoo. Macrophages absorb the destroyed molecules, which are then eliminated by the body.
This is good news to people who might be wondering if tattoo removal means literally scraping the tattoo from a person's body. Laser tattoo removal is a safe process that is 100 percent non-invasive. Today's advanced technology is a far cry from painful and inefficient methods used in the past. While it's always a good idea to be extra certain before getting a tattoo, at least you can know that if you ever decide to have it removed, there's a process that's safe, permanent and which causes only minimal discomfort.
To make having a tattoo removed a more comfortable experience, all DermSurgery patients having this procedure receive an anesthetic injection before work begins. Note that this is a local anesthetic that acts only on the area where the work is being done.
If you have a tattoo and the time has come where you no longer want it, don't stress. Just contact DermSurgery Associates and ask about our tattoo-removal services. We have helped many people just like you restore their skin to its natural, pre-tattoo beauty.
#        #        #        #        #
 DermSurgery Associates is a Greater Houston area dermatology practice offering cosmetic, surgical and non-invasive dermatology treatments and procedures with industry-leading physicians trained and experienced with the most current dermatology technologies and procedures. For more information, contact
DermSurgery Associates
7515 Main, Suite 240
Houston, TX 77030
ph.713.791.9966